LAST RIDE HOME - Film
Hot naughty train sex ensues in an empty carriage home
Comment
This adult film has all the magic ingredients for it to be one of those must-watch hot naughty public train sex films but appreciate may not appeal to all. It is, however, a delicious combination of 2 gorgeously sexual girls looking for some adventure, a single guy and the opportunity for some risque public train sex in an empty carriage. Hedonistic sex on a train in itself is a fabulously hot sex fantasy video.
However, do expect a different style of content here to our Frolicme films. This has a moody earthy vibe. Late-night train, casual travellers seizing a moment. It's not sophisticated sex in a beautiful setting. This is not a glamourous triest. This is far more random and unplanned in the opportunistic style of horny people seeking a spontaneous connection. Sexual girls looking to add some extra heat to their own physical pleasures. A random cock to use, pleasure and enjoy together.
We sense the moment our sensual fun-loving bisexual girls fall through the door that their hormones are on fire and their appetite for sex raging. While they continue to fuel up their sexual desires, their interest piqued on the single hot guy sat quietly. In an opportunity to gauge his interest, they begin to flaunt their bodies, teasing him provocatively, exposing their bodies and engaging in some tantalising girl on girl pleasure. Kissing, cavorting, devouring and pleasuring is too much for any heterosexual man. Naturally, he struggles not to find himself drawn into their web of sensual pleasures and soon finds himself the centre of some sexy hot action in this hot naughty threesome scene.
A stranger sex film that I am sure will generate mixed views, however, it adds an interesting dynamic to our growing catalogue of threesome porn videos to explore.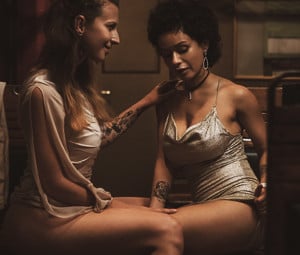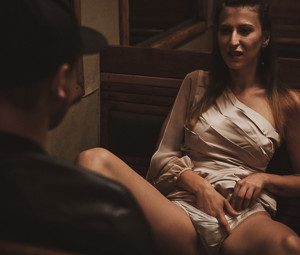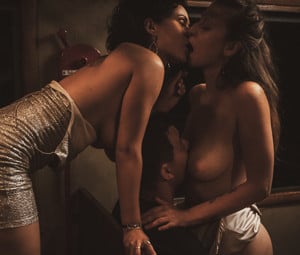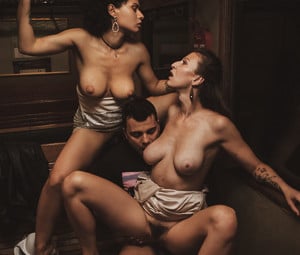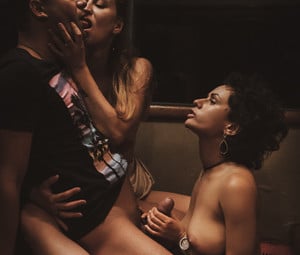 Other Films you may enjoy
Below is a selection of recently updated films and stories, just click on the image to view in greater detail