COOL TIMES - Film
Naked lesbian girls enjoy a wet poolside frolic
Comment
This pool porn video opens with a beautiful artistic aerial shot of Julia swimming gracefully through the cool water which glimmers in aqua blue, highlighting her tanned nude figure as she glides. There's nothing quite like a delicious skinny dip in your private villa to get you in the mood for a frisky frolic with your holiday fling.
As she steps out, Julia allows the stray water droplets to shimmer and fall from her toned, glistening skin, knowing exactly how to catch her girlfriend's attention. Leaving wet footprints in her shadow, she walks towards Milena, who watches from her languid position on the double sunbed.
Julia catches her gaze and smiles as she leans over Milena's body and reaches for the sun cream. Applying it seductively onto her lover's beautiful pale skin, Julia's hands wander down Milena's body, the massage growing more sexual as her touch grazes and kneads her curves. A crackling energy ignites between the two girls as their eyes light up with erotic intentions. A gorgeous pool porn scene ensues with Julia enjoying riding Milena's face good and hard, grinding her way to orgasm as her lover feasts on her hot hungry pussy.
Satisfied yet ready for more, Julia brings out a glass dildo to pleasure Milena, wasting no time in sliding the smooth phallus deep inside. We get to witness the clench of Milena's pussy pulsing around the toy as Julia frigs her clit hard and fast finger fucking to orgasm with her clever fingers.
Hot, deep, wet and writhing, these girls sharing their lesbian lust is the perfect poolside fuck in the sun. Giving themselves over to the indulgence of late afternoon alfresco sex, we can feel the heat and need driving them to take their pleasures in each other's glorious bodies.
A beautiful artistic summertime pool porn video. We hope you enjoy watching this sensual lesbian sex video. Full of erotic girl-on-girl fun, this is the perfect summer addition to our lesbian porn category.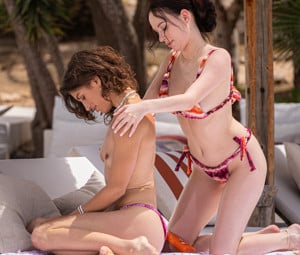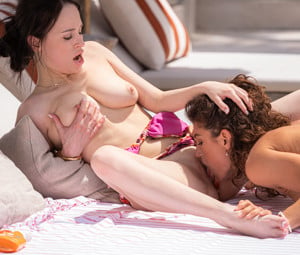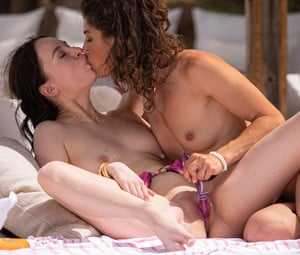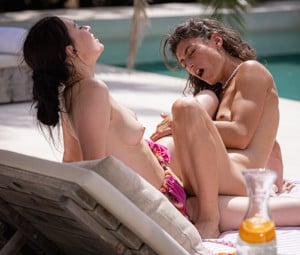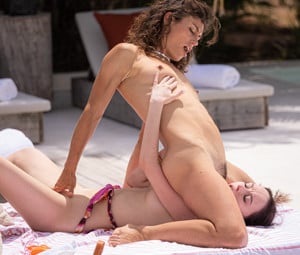 Other Films you may enjoy
Below is a selection of recently updated films and stories, just click on the image to view in greater detail