HOT & WET - Film
Two gorgeous girls getting horny while playing in the bath
Comment
For those of you who love your girls both HOT & WET, I very much hope you will enjoy this sexy little porn film that I feel combines both delicious elements perfectly. Also from a girls point of view, I am sure you will enjoy relating to the sensual pleasure playing in the bath, received from another pair of feminine hands.
Lena's quest for more orgasmic satisfaction takes her back to her girlfriend who is still soaking in the bath. So hungry to get her hands on that beautiful naked body she doesn't even bother to waste her time undressing and climbs into the bath still wearing her stockings, panties and blouse.
These gorgeous girls explore their beautiful bi side, which begins with a soft porn tease while they are playing in the bath. Hands roam across bodies searching for breasts to cup, mouths brush against cheeks, fingers circle sweet pussy lips, and their enjoyment grows as they explore each other further. Through gradual sexual tease, their arousal builds to a passionate hungry pussy consumption using fingers, tongues and a large pink bath toy.
Seeing young women and particularly gorgeous lesbians taking time to sweetly satisfy each other is incredibly horny. Women understand each other, they share the same knowledge of their bodies, they know how to engage with another female, and when left alone away from prying eyes they feel free to play.
Straddled behind each other in the bath there is the visually arousing sight of clinging wet clothing as the water absorbed into the light fabric of Lena's top. A delight to anyone with a wet fetish bone who gets excited at the vision of such pretty girls soaked in their clothing.
Take a moment to browse through our growing collection of hot and passionate lesbian sex videos.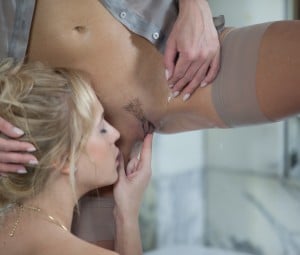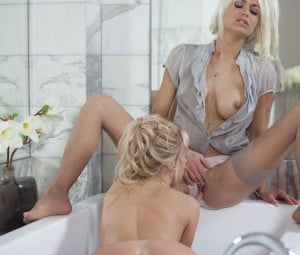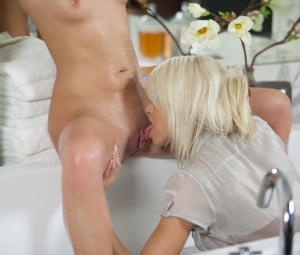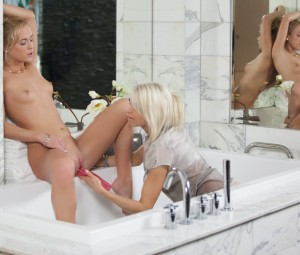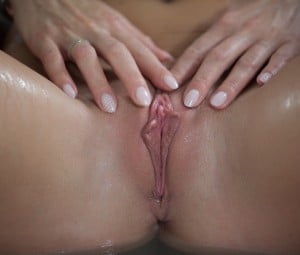 Other Films you may enjoy
Below is a selection of recently updated films and stories, just click on the image to view in greater detail