Naughty sex video as beautiful girl is watched by voyeur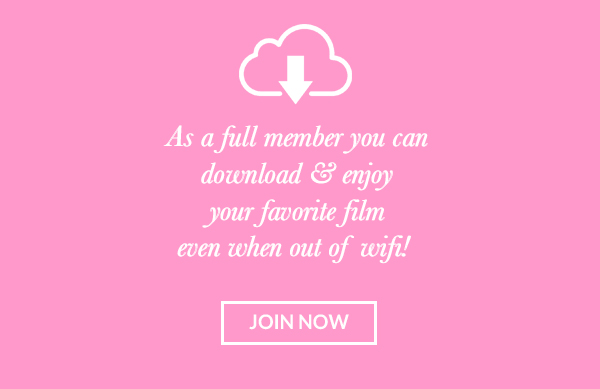 SEE YOU - Film
Naughty sex video as beautiful girl is watched by voyeur
Comment
This film is most certainly a very provocative and naughty sex video for those of you who find the idea of a little voyeurism intensely erotic. Having the opportunity to spy on a beautiful girl, secretly watching without her knowledge can trigger intense sexual arousal, leading it to be a naughty sexual fantasy held by many. The concept of pornography is based on voyeurism, watching others have sex.
It can be very risky to be a voyeur, but there are some places where voyeurism and exhibitionism are not only legal but seriously encouraged in places such as sex clubs and nudist beaches. There are even some festivals like Mardi Gras in New Orleans that celebrate voyeurism and exhibitionism.
Thinking herself to be alone in her sun-drenched Greek courtyard, the beautiful Lola enjoys relaxing in the sunshine on her daybed. The intense heat beating down on her body triggers horny thoughts and arousal leading her to explore and stimulate her body naturally. Casting aside the flimsy sarong that provided some initial modesty, her body became bare, gloriously naked in the summer heat. Her hands start to roam, stoke and touch her body, stimulating her breasts and nipples while feeling her way down to between her thighs. Spreading her legs, she knowingly finds her pleasure zones, massaging and fingering her pussy lips and vulva, encouraging waves of pleasure to build in her body. Her fingers not being enough, the use of a solid glass dildo complete the pleasure allowing her to fuck her herself while stimulating and playing her clitoris.
Unbeknown to herself, there is a security camera taking in the full view as well as a naughty peeping tom furtively observing her from high above, spying on her sexually pleasuring herself. Does she know someone is there as she does glance up? But then is she bothered knowing someone is watching, or is her self-pleasure and masturbating just too good to stop.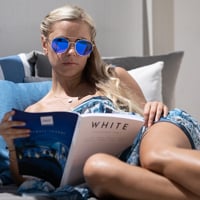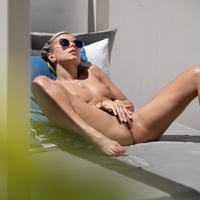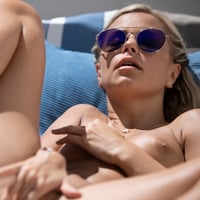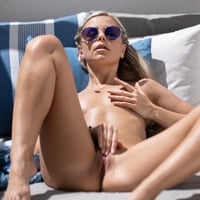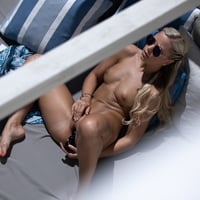 Other films you may enjoy
Below is a selection of recently updated films and stories, just click on the image to view in greater detail