DAYBED - Film
Horny couple having great fun sex outdoors in the sun
Comment
What could be sexier than a hot and horny couple frolicking outside on a hot summer's day. Day Bed is a film that celebrates that very thing – outdoor sex -with chemistry sizzling and much fun being had, the heat is blazing from more than just the late afternoon sun!
Sex is and should be special fun, sharing time and sexy moments with someone you enjoy being with. In this film, you can tell as Katana and Ricky giggle their way onto the sun lounger, that this horny couple really are down for the fun as well as the frolics. You can expect giggles, laughter and sex a-plenty to complement the raw sexy action, as Ricky gets carried away with his pussy licking.
There's just something so deliciously arousing about being naked in the sun—the smell of tanning lotion and perhaps a cocktail or two, it's no wonder our starring couple are having such a great time.
From the moment you hear their squeals of delight off-screen, you know there's some serious chemistry going on. The chatter and sweet casual teasing continue throughout the film, leaving you in no doubt that this horny couple are having an absolutely fantastic time together.
This is such a lovely sunkissed piece of porn for women erotica, it will have you yearning for those long languorous days at the beach with the sting of too much sun and sand leaving you feeling sexy and hot, ready for a good satisfying sex session.
Katana and Ricky really know how to satisfy their lustful craving, and as well as the fun, they share a ferocious hunger for each other all played out on a sun lounger on a beautiful day. The action ends where it began with a horny couple giggling and laughing together. A lovely natural energy flows between them and they share many different sexual positions, all the while the chemistry sizzles and the orgasms fly.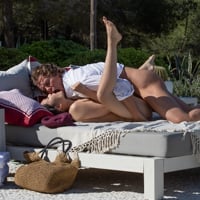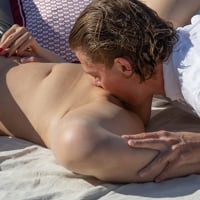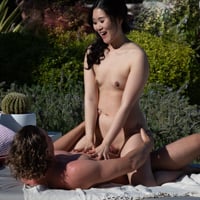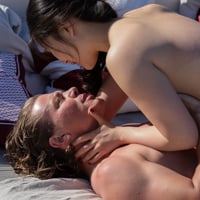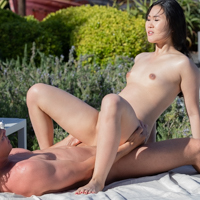 Other Films you may enjoy
Below is a selection of recently updated films and stories, just click on the image to view in greater detail