KINKY FUCKS cont - Film
Couple continue to explore some kinky fucking with Dom
Comment
If you've already enjoyed the first instalment of our couple enjoying some kinky fucking in the dungeon, you'll be more than ready for this treat.
The sound of chains being ratcheted through their pulley system is the first thing to set the scene and heighten our senses about what's to come. As Julia is slowly trussed up and ready to be used, George is given full access to her sweet pussy from behind.
A sexy spit roast in this erotic movie ensues as Julia fellates her mistress while George gives her ravenous cunt a taste of his dick.
To be secured between your two lovers must be an intense experience, and Julia is loving every second of this kinky fucking, indulging all her fantasies and being a plaything for her master and mistress. Suspended between them as they swap places, the thick rubber of Domina's strap-on slides into her desperate pussy while she wraps her mouth around the familiar flesh of her lover's cock.
When the chains are released, Julia might think it's all over, but she must think again. George cups her pussy in his palm, working her clit into a frenzy as Domina reties her bonds. They are teasing poor Julia, who is left on the brink, edged by her ruthless lovers on the way to the next sublime torture.
The kinky fucking is taken to new heights as Julia is trussed up in a sex swing, fully exposed for the use of her sexy tormentors. Her thighs and pussy spread wide for George to feast upon, delivering yet more sweet pleasure.
Julia's harnessed body gives her the opportunity to treat her lovers to some incredible action—head tipped back, throat open for Georges' cock as her pussy is pounded by Domina. All the while, the clink of metal on metal reminds us exactly where we are. A sex room dedicated to some kinky fucking.
Ah, for your sexual pleasure to be the only focus of two expert lovers, what more could you possibly need?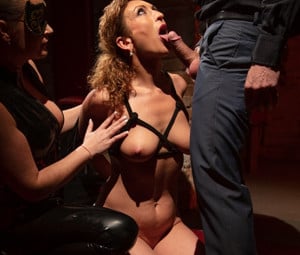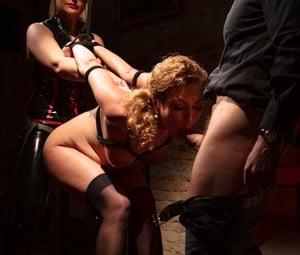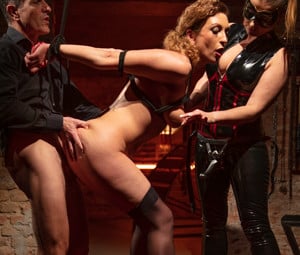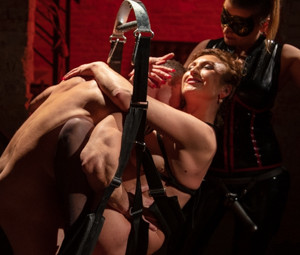 Other Films you may enjoy
Below is a selection of recently updated films and stories, just click on the image to view in greater detail