TAKE A LOOK - Film
Girls get sexual and enjoy same-sex fun in the sun
Comment
Seeing women together enjoying girl on girl sex is not so unusual. Many studies confirm women are far more open-minded when it comes to same-sex fun. Indeed, a quarter of British women have admitted to fantasising over having sex with another woman. It's one of the many reasons lesbian porn and porn for women are still the top searches when it comes to sex films online. Girls get sexual and can so appreciate the qualities of another woman as we see in this horny lesbian porn of Coco and Margot. It also prioritises female pleasure which both men and women can find highly erotic to watch.
Set in the outdoors with a sexy Mediterranean vibe the two girls get sexual and ooze natural, relaxed sexuality. Looking casual and carefree they are both relaxing at their villa, the heat of the sun encourages them to lose their clothing, stripping off in the sun. Soon they are enjoying the sensual pleasures of being outdoors naked. That in itself triggers their liberating freedom to enjoy each other, touching and gently caressing each other's bodies gently turns them on. Deep kissing soon follows as they lose all abandon to explore and experience a deeper level of lesbian sex. The sex is passionate and natural. Women enjoying the pleasure they can both give each other. Their sex focused on some serious cunnilingus love. Fingers exploring and penetrating wet folds of skin. Lips are spread and vulvas explored and licked, searching the gentle area of their clitorises that offer instant sweet gratification. The girls truly embrace their sexuality and take pleasure in each other's lustful abandon.
This is a delightful lesbian porn video with a wonderful feel-good factor and delicious earthiness of sex outside. It beautifully enjoys the real sex and intimacy girls can naturally experience together.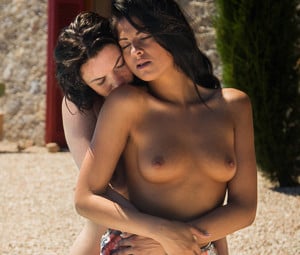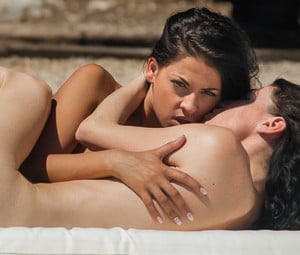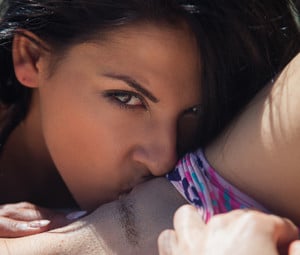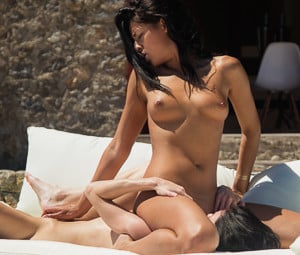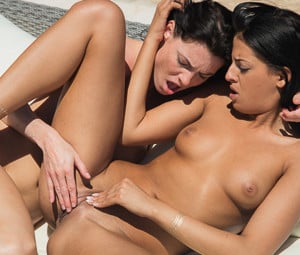 Other Films you may enjoy
Below is a selection of recently updated films and stories, just click on the image to view in greater detail