FINGER ME - Film
Lovers enjoy fingering and pussy orgasm fun
Comment
Sex can encompass so many areas of pleasure. Sometimes it really isn't all about deep penetration to have the sweet arousal of a beautiful intense pussy orgasm. Feeling comfortable with your lover and knowing how to please and arouse can be enough to send them over the edge and get those endorphins flowing around their body. It can also be a way of learning more about what you both like and how best to achieve it.
Here in this erotically charged film, Penelope enjoys some very focused intimate pleasure from her sexy lover Sylvan, who seems expert in the art of making her smooth pussy orgasm with his fingers and touch.
Fingering is a truly intimate thing to do with a partner and often underestimated as a main course in the fucking menu, relying on trust, communication and mutual respect. In this sexy film, we witness all three as Penelope, held by her lover is caressed and petted. With her legs splayed open, you can tell she is desperate for her lover to reach down into her delicate floral panties and make her come hard over his hands.
There is some beautiful breast play and obvious chemistry between the two. All Sylvan's focus is aimed at pleasuring his lover and giving her a wonderfully intense pussy orgasm.
The way the couple gaze into each other's eyes as they play adds to the deep sensuality and makes for a very arousing film. As he replaces the touch of his fingers with a slender sex toy, we witness the rise and need of Penelope's impending climax. Subtle and slow erotic play can be just as thrilling as a good hard fuck, as demonstrated here in this sex toy porn, when Penelope is brought to a glorious pussy orgasm as she calls out 'I come'. This artistic porn film is all about her pleasure, and her pleasure alone, though are left in no doubt that Sylvan certainly enjoyed himself throughout.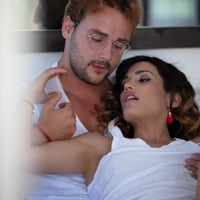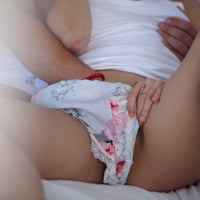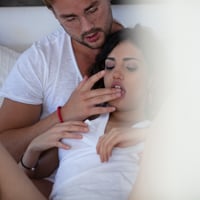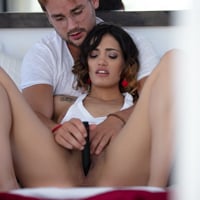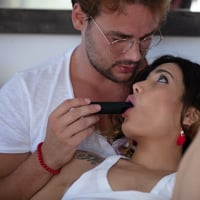 Other Films you may enjoy
Below is a selection of recently updated films and stories, just click on the image to view in greater detail