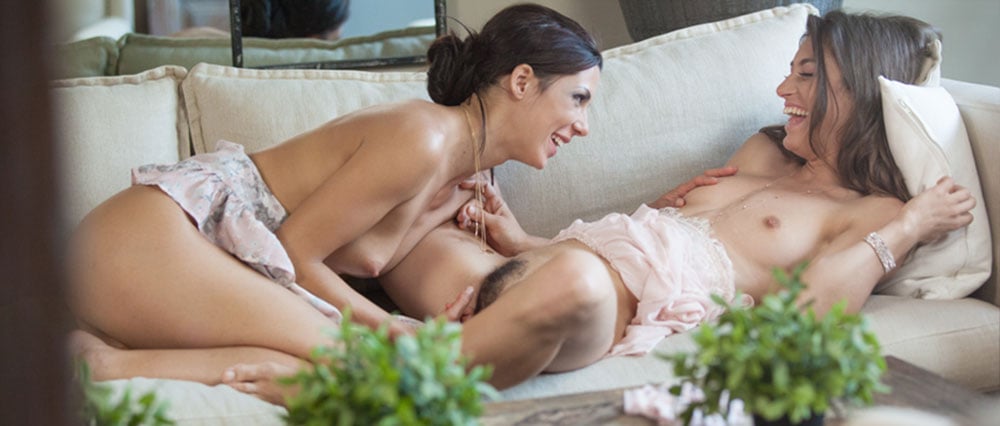 PRETTY IN PINK - Story
Arousing tale of two girls having sex together for the first time
Comment
She didn't think Alexa was going to let her touch her—then again, she never thought anyone was going to let her touch them. Julia was shy, she knew it, but still, that didn't stop her erotic lesbian desires from flowing through her body, like any other young woman.
Shyness didn't seem to be present this early afternoon as Julia's hands ran up the back of Alexa's legs, teasing underneath her dress. There was no resistance. She pulled Alexa closer to her. Their lips met, then instantly locked in a passionate kiss. No, there was no resistance at all. Julia only felt the equal pull of her new lover, touching her in the same manner. They wanted each other, there was no denying it.
Julia moaned softly and pressed her lips more forcefully against Alexa's mouth.
"Julia couldn't possibly be in this as much as I am," Alexa thought as she struggled to keep her composure, her lips pressed against Julia's, her tongue dancing lightly inside her delicious little mouth. "She's normally so shy…"
~
"I can't believe Alexa isn't stopping me," Julia thought again as she pushed her tongue deeper into Alexa's mouth. She opened her eyes and dared a quick peek at Alexa, amused to see her lover's eyes were squeezed tightly shut. "God, she's so beautiful," she lamented, still not quite believing that it was Alexa, her gorgeous brunette roommate that she was kissing.
It felt so surreal… watching Alexa all these months as they became better and better friends… casually asking Alexa if she ever dated women, yet not ever receiving an answer. She knew she did—Julia had caught Alexa bringing a girlfriend back from a bar one night… what a night it had been. Julia still got wet remembering the sounds of the two girls moaning behind the closed bedroom door as she hid in the dark to listen to their intimate romantic sex.
Yes, her roommate dated girls, but for some reason, she refused to ever talk about it. That particular girlfriend was gone the following...
...to read the rest of this story please login or
register
to read the full story free.
Read all about the wonderful author: Sidney Sitravon