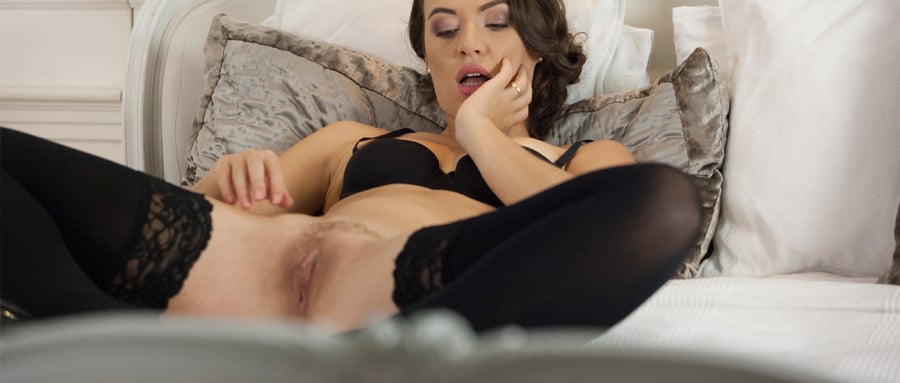 TIFFANY - Story
Romantic erotic story with Tiffany
Comment
Mmmm. Magnifique. I admire the delicate beauty of my black Chanel apron skirt in the full length mirror in my room. The intricacy of the attached ribbons and bows sown in strategic locations create cascading layers that playfully display my endless legs like they were playing peekaboo. Fortunately I'm wearing a black stockings because the sheerness of the material would have been too revealing for the occasion. I would hate to find myself the subject of office gossip because I showed up for the weekend looking like a French streetwalker, especially because I bought this ensemble specifically for the dinner at Mr. Henry's home. He frequently hosts dinners for his top sales people and after five years with The Philippe Company and three years on Mr. Henry's team, I received a call from his assistant Cassandra inviting me to the Henry estate in Greenwich, CT to celebrate third quarter sales results.
Being invited to dinner is a huge achievement within our department. So far, everyone that's attended a celebratory dinner received a promotion within the six months following their dinner. I can't be more excited thinking I'm the first female to receive the call. It's the reason I splurged on Chanel. I wanted to wear something that boosted my confidence and emphasized my femininity in this high testosterone environment. There was a rumor that after dinner, the guests moved from the formal dining room to Mr. Henry's library where they partake in $55,000 Rémy Martin Cognac Black Pearl Louis XIII and hand-rolled Cuban cigars both of which I know nothing about but I wasn't going to let that come between me and a promotion. And let me tell you, the cognac was smooth but the cigar took some getting used to. There were a few Monica Lewinsky comments as they guys looked at me but I pretended not to hear them. After the cognac and cigars, we were escorted to our guest room to enjoy the rest of the night. If we desired, a masseuse was on call however I think she was providing more than back rubs.
So in my room, I think about undressing slowly, freeing myself of my delicate confines one garment at a time as if I were still the center of attention like I was during all four courses of our decadent dinner service prepared by Mr. Henry's award winning chef Pierre. Mr. Henry has said on many occasions, "If I have to work in New York, I'm going to surround myself with as much of France as I can." That included me, his assistant and another salesperson named René who has been here just six...
...to read the rest of this story please login or
register
to read the full story free.
Read all about the wonderful author: Casey Carter