WET FOR YOU - Film
The pleasures of masturbating and enjoying an orgasm with a toy
Comment
We love the pleasures sex toys can bring, whether alone or when enjoying the fun of partnered play. Something as simple as a vibrating bullet can increase your self-pleasure ten-fold, ensuring strong, intense pulsations are delivered right where you want them. If you haven't tried already, it really can be so much easier to orgasm with a toy and ensure you enjoy some mind-blowing sex and pure satisfaction.
In this lush erotic movie we have Anna displaying her beautiful body for our eyes to feast upon, watching as she luxuriates in her own flesh, teasing and disrobing from her sexy lingerie. Her breasts are a thing of wonder and she knows exactly how to excite us as well as herself as she runs her nipples between her fingertips bringing them to hard studs of arousal.
Soon her touch travels down into her sheer panties already glistening with her own juices. She spreads her pussy and starts to masturbate for the camera and we can see everything through the silky wet fabric.
When Anna decides to ramp up the pleasure, she reaches for her gold bullet vibrator, knowing it is the surest way to reach that glorious tipping point. She's set the scene, she knows her angles and how display her sex for us to become the voyeur to her solo seduction as she plans to bring herself to orgasm with a toy.
And watching this is hot indeed. Anna strips further, leaving just her lacy corset and leans over, inviting us to watch and witness as she unashamedly takes her own solo pleasure, bucking and writhing until she comes spasming and jerking half way up the wooden staircase.
What a treat indeed to see this gorgeous woman bring herself to orgasm with a toy with no one to please or impress but herself.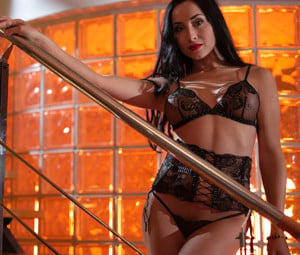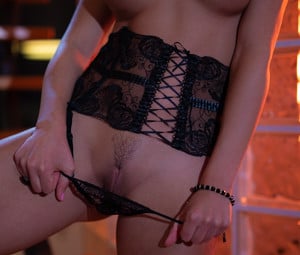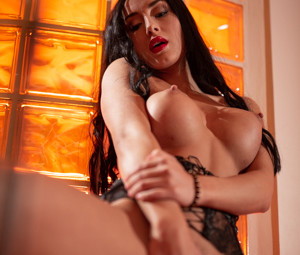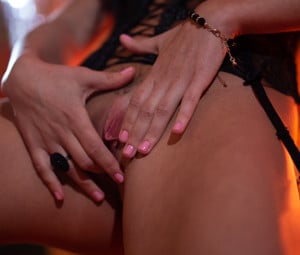 Other Films you may enjoy
Below is a selection of recently updated films and stories, just click on the image to view in greater detail