TABLE SERVICE - Film
Threesome fun with our sexy cock hungry woman
Comment
The clock is ticking as the New Year is upon us, so we felt it was time to ramp up the fucking pleasure with some sexy slutty action from our gorgeously naughty cock hungry Cherry in this horny threesome sex film. The mistress of all pleasure, her body encased in an eye-catching sequinned dress, sexual tension fills the air as Cherry sizzles by the bar eying her prey. Corks pop and the champagne flows, we know we are in for some seriously hot wet action in this treat of an erotic movie.
What table service would you offer these two hot studs?
The men are engrossed in their own conversation so Cherry has to wait, her appetite growing, looking sexy as hell. At last, Sylvan takes notice as she saunters past, bottle of bubbly in hand. She pops the cork and fills the classic champagne fountain capturing both men's gaze as she hands them a glass of celebratory fizz. Her touch drifts to their thighs sending the message loud and clear—she is a cock hungry woman ready to take them both on.
Finally, the men begin to show her the physical appreciation she so desperately craves.
Well, what would you do if a sexy woman approached you in such a way?
Flaunting her divine body, teasing and tantalising the men, it's not long before their dicks grow hard, straining beneath their suit trousers making no mistake about Cherry's intentions.
Teasing and caressing them both, Cherry continues her seduction, exposing Steve's dick and wrapping her lips around him. Sylvan looks on, rubbing his own hard-on while Cherry feasts on his friend.
This party for three is very much all about the sex and it's clear that Cherry is not just cock hungry, she's ravenous!
Taking turns on each man's delicious thick prick, Cherry definitely gets her fill… and more in this burning hot threesome film.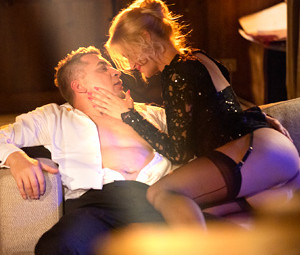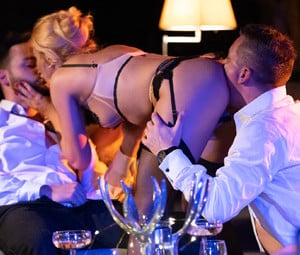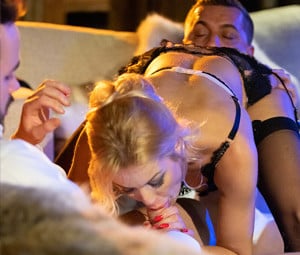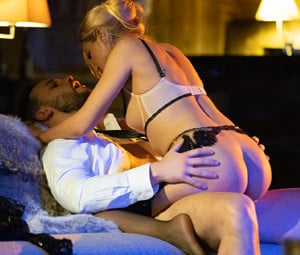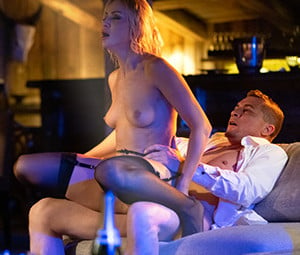 Other Films you may enjoy
Below is a selection of recently updated films and stories, just click on the image to view in greater detail