DIRTY BLONDE - Film
Film of pretty couple fucking
Comment
Ah the gorgeous Candee is so delicate, gamine. A stunningly naked blonde watching her enjoy the full extent of Chad is a delight in itself. There is something rather arousing in seeing such a sweet, petite and lovely girl become so dirty, even fingering herself to enhance the pleasure of his tender kissing, he caresses her breasts from behind, all a wonderful paradox. The young and innocent girl wanting to enjoy the pleasure of his hard cock, oh and the knowledge of knowing how good that must feel.
There is no rush in this scene, the pace is gentle and unhurried, as these two take their time caressing and seducing each other's bodies. Clothing slips off and we see the gorgeous full nudity of Candee's delightful body, her breasts petite and pert, they offer a perfect mouthful as Chad buries his face to inhale her scent.
Candee soon finds herself on all fours, bending down to enjoy licking this naughty and very girthy Chad. His cock full and alive as she tenderly and sweetly licks and teases him, caressing his balls in her delicate palms and working her hands around his shaft. It's a moment we see the easy pleasure he is enjoying as he looks down at this very pretty blonde arousing his body.
The pace continues easily and smoothly, her legs stretched wide she lowers herself deep onto him. Hmm one can only imagine how good that first moment must have been. Gradually they begin to work up a steady rhythm, the ecstasy of feeling showing on her face and he bounces her up and down his strong cock. The delightful petite Candee enjoying the full measure of what he has to offer. Oh such a naughty dirty blonde she is and what a hot couple sex video.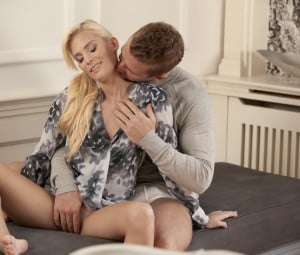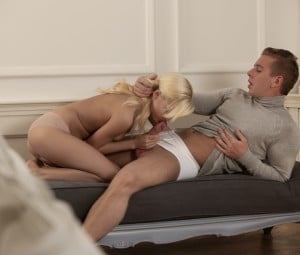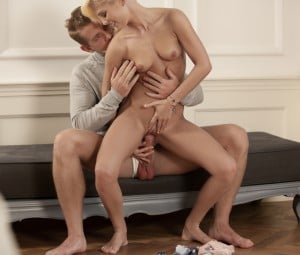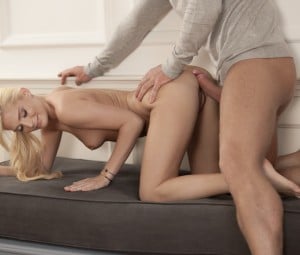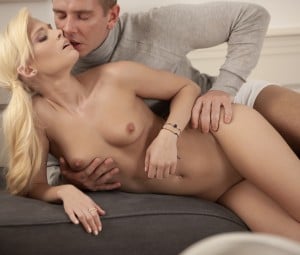 Other Films you may enjoy
Below is a selection of recently updated films and stories, just click on the image to view in greater detail