DANCE WITH ME - Film
Captivating female enjoys the pleasure of her body
Comment
If an erotic female solo film is what you're looking for, then an erotic female solo film is exactly what you shall have! The elegant red-haired Ariel has us instantly transfixed—dressed so provocatively in a sheer transparent black blouse, revealing her perfect silhouette beneath. The sexy see-through fabric cascades over Ariel's alabaster breasts, giving us a perfectly arousing feminine vision. She sensually cavorts before our eyes, drawing attention to her form as her hands move suggestively over her skin, highlighting her beautiful body.
She peels off her blouse and begins to seduce herself in a most elegant and sexy way while music plays. Who is she dancing for? Maybe just her inner self. There's something so hypnotic and arousing about the way she moves, turning herself on until she has to take a seat and give herself over to the art of pleasuring herself. Caressing her gorgeous breasts and undulating her hips, we are under a spell as a finger trails down to her panties and slips teasingly inside, just for a second. It's not long before her fingers return, making their own dance inside her underwear as Ariel's eyelids flutter closed and she abandons herself to the joys of masturbating and self-love.
Her body continues swaying rhythmically as she completely disrobes. With only her sexy hold-up stockings and heels left on; she splays herself open for our viewing pleasures. When we hear the sounds of her sexy lubricating juices begin to flow under her touch, we can fully immerse ourself in this joyfully erotic female solo film.
The angles are beautiful—occasionally, we are viewing from just outside the doorframe, giving a voyeuristic experience, other times we are tantalisingly close to the action. Ariel is so lost in her own pleasure—would she even notice us there… watching? Her fingers dive in deeper and we get the perfect view of her aroused plump pout from behind as she rubs her full pussy, lifting her leg for better purchase of her wet juicy cunt.
When Ariel finally twitches and shudders to her glorious climax, you know this is definitely one sexy female solo film you'll want to watch over and over again. Beautiful erotic movie.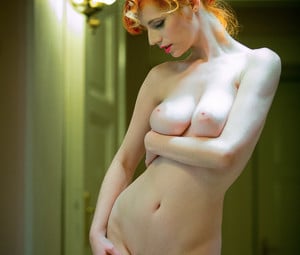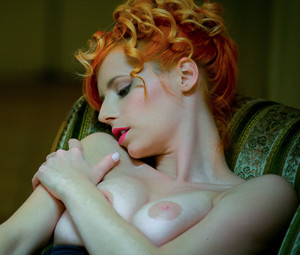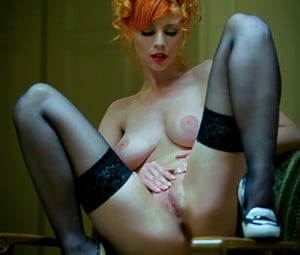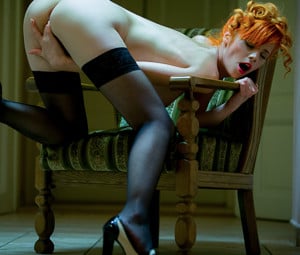 Other Films you may enjoy
Below is a selection of recently updated films and stories, just click on the image to view in greater detail