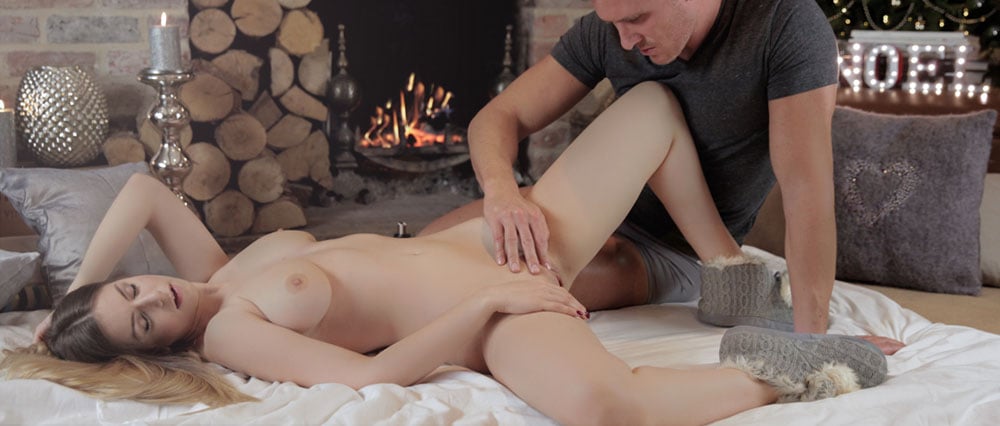 FIRESIDE TREAT - Story
Beautiful erotic and sensual porn story told by both lovers
Comment
Marc's Treat by Tabitha Rayne
He's bought new lube.
As I arch my ass up into his hands I think back to my afternoon bath, where I prepared for this evening.
I'd shaved every part of my body and as the foamy water swirled languidly around me, my fingers drifted to my pussy, exploring the folds and wandering to the tight pucker of my ass. I'd gently probed, turning myself on and making myself wet and ready for what I hoped would come this evening – fantastic anal sex.
And now, as the sound of the sticky lube dribbles into his hands and he begins to knead my ass cheeks in a beautifully rhythmic way, I show him with my body that I'm ready for everything he wants to give me. I writhe and rear up against his touch as he massages me, the occasional thumb or finger dipping into the crevice between.
I twist, trying to catch a fingertip in my desperate pussy but he simply takes his touch away, pouring more of the ointment on my flesh instead. Ahhh, he knows how to tease. He knows how to get my body to cry out with every pore for him.
His touch is like electricity running through me, up my back to my neck, raising goosebumps as it flows gaining speed, I push my shoulders up, relishing the way the sheet grazes my nipples as I rise up on my elbows. I turn to catch a glimpse of him staring at me, hungry for me.
I spread my legs and lick my lips, daring him to make a move. The fire crackles and I'm touched by the way he'd made the room warm knowing how I chill easily. I wriggle my cosy toes in my slippers and another wave of love lust pours from me. Am I going to have to demand his cock?
Just as I open my mouth to speak he slides his hand down in between my ass cheeks and pushes his middle finger deep into my desperate pussy, pushing my left leg up to give himself a premium view.
He rolls me over and drips the warmed lube over my chest and torso. I open my legs wide, showing him my need as he massages my breasts.
We kiss and I reach for his cock which strains in his boxers. Oh yes, and there's his finger again, curled up inside me, hooking in to my g-spot. I'm so wet now, he's an expert with my body. He gives me a taste of myself then brings out the bullet vibrator, switching it on and teasing my flesh all over.
He's cradling my thigh and draws the bullet over my clit making my excitement rise. I don't want to come so soon but I can't help it. My breathing deepens and he kisses me, while I tip over the edge into orgasm. He keeps teasing wave after wave out of me and my cunt trembles and spasms under his hands.
I need his cock. I turn and he kneels back before me, letting me peel back his boxer shorts to see his beautiful erection. I wrap my fist around him and pump up and down only twice before launching my tongue and lips over his shining head. He tastes of salty sweet Christmas spice and I lap him up, using my mouth and fist to pleasure him, take him as deep as I can. My cunt is yearning to be filled and I can't wait any longer. I crawl up his legs and straddle him, splitting my legs open and mounting his delicious cock.
I take him right up inside me and I'm so turned on I can't help whimpering. I love the way he stares into my eyes as I ride him, thrusting my hips, reaching round every now and then to cup his balls, I know he loves that.
I keep bouncing, thrusting, riding him, needing more. I need more, I need to feel utterly owned by him. He grabs my ass and slides me up and down his shaft, it's so horny but I need more.
My clit grazes his pelvis as I rock back and forward. I lean over and he starts massaging my ass again, reaching and looking to where his cock is headed.
He lifts me up as if I am nothing and flips me onto my back. I raise my leg up to his chest willing him to go deeper. I lick my fingers and rub my clit, I'm so wet for him now. I grab my ass and pull the cheeks apart giving him no doubt as to what I want next. He flips me again, spooning me then pushes his dick into my cunt from behind, hitting all my sweet spots. I wail and cry out, touching my clit I'm so turned on. He keeps fucking me hard, but I need more, I need more. I need him to fuck me in the ass.
I reach behind me and take hold of his dick, carefully guiding it to my tightest of entrances. His cock surges under my touch, our eyes meet and I know he wants this too. In fact I've a feeling that he's planned it all along. We pause together as I gather his tip to my ass, gently bearing down on him as he pressed into me. It's the most incredible sensation to be stretched this way, feeling so beautifully invaded. The nerve endings there feel expansive and I fold in on myself as his cockhead breaches my hole. I almost spiral off into that place of sweet oblivion but he grounds me with his precision thrusts: slowly, gently until he's up to the hilt and I let go of my tension, allowing him into the deepest of my personal space.
It's beautiful. We are one together and I push back to signal my readiness. He pulls back out with care and kindness then begins to move back and forth. The sliding, stretching sensation is all consuming and this time I allow a fragment of myself to break free. My pussy clutches and yearns and I shove my hand between my legs, pulsing and fucking myself into a frenzy of fuck lust. He's fucking my ass harder now, deeper, raunchier and with very thrust I'm closer to the brink,...
...to read the rest of this story please login or
register
to read the full story free.
Read all about the wonderful author: PJA Woode, Tabitha Rayne